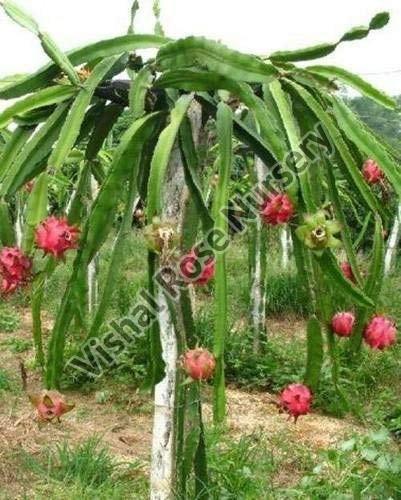 Red Dragon fruit is an exotic cactus based fruit that is mainly found in Asia and southern parts of America. It is a large, thick, tasty fruit. However, red dragon fruit is used to make ice creams, jams, fruit juice and wine. It is sweet and flaky texture. The red dragon fruit plant is rich in antioxidants that play a vital role in reducing the risk of cancer and diabetes. However, these red dragon fruit plants can be grown easily, but some mistakes need to be avoided.
Pot Size
It is amongst the most common mistake that people tend to make when growing a red dragon fruit plant at home. Dragon fruit takes time to grow like 5 to 6 years and if you are looking to grow a Red dragon fruit plant at home you require a huge pot of about 20 gallons to help the plant grow in the right way. You can opt for terracotta pots that are wider and longer for more aesthetic appeal. They also help drain excess water from the plant and ensure that the Red dragon fruit plant is growing properly. Having a large size pot will allow the roots to grow naturally and you need not have to report the plant once it starts to grow in size.
Overwatering
Another common mistake people make when growing any plants at home is overwatering. The red dragon fruit plant is a tropical cactus and requires less water than the average vegetation. If you overwater the plant the roots will start to rot and the stem will also begin to plop. You must make sure that the plant has adequate water but not too much to help it grow properly. Having a larger size pot with tons of soil will help regulate the water quantity of the plant.
Pruning
Pruning is vital for growing plants, especially plants like the Red dragon fruit plant. You must prune shears to help the dragon fruit plant grow upwards towards the sun. Shears are energy suckers, and it is vital to remove them for healthy Red dragon fruit plant growth. However, you need to be careful when pruning the plant you do not want to take off the main stem rather you can plant these cutting in other pots to get a new Red dragon fruit plant for your home. Due to rich in nutrients, these are highly demanded to Red Dragon Fruit Plant Manufacturer.
However, red dragon fruit is rich in nutrition and also fights against chronic diseases. These red dragon fruits are rich in fibre and can be helpful for the treatment of diabetes. Therefore, the red dragon fruit plant is a tropical fruit and has health benefits. So, above are some of the mistakes that need to be avoided while growing red dragon fruit.
It increases immunity to fight against different types of infections and viruses. It is also considered good for digestion and good for the heart. It helps fight skin acne due to the presence of antioxidants. So always be careful while growing red dragon fruit. However, the red dragon fruit should be ripe before eating and being low-calorie fruit contains less sugar